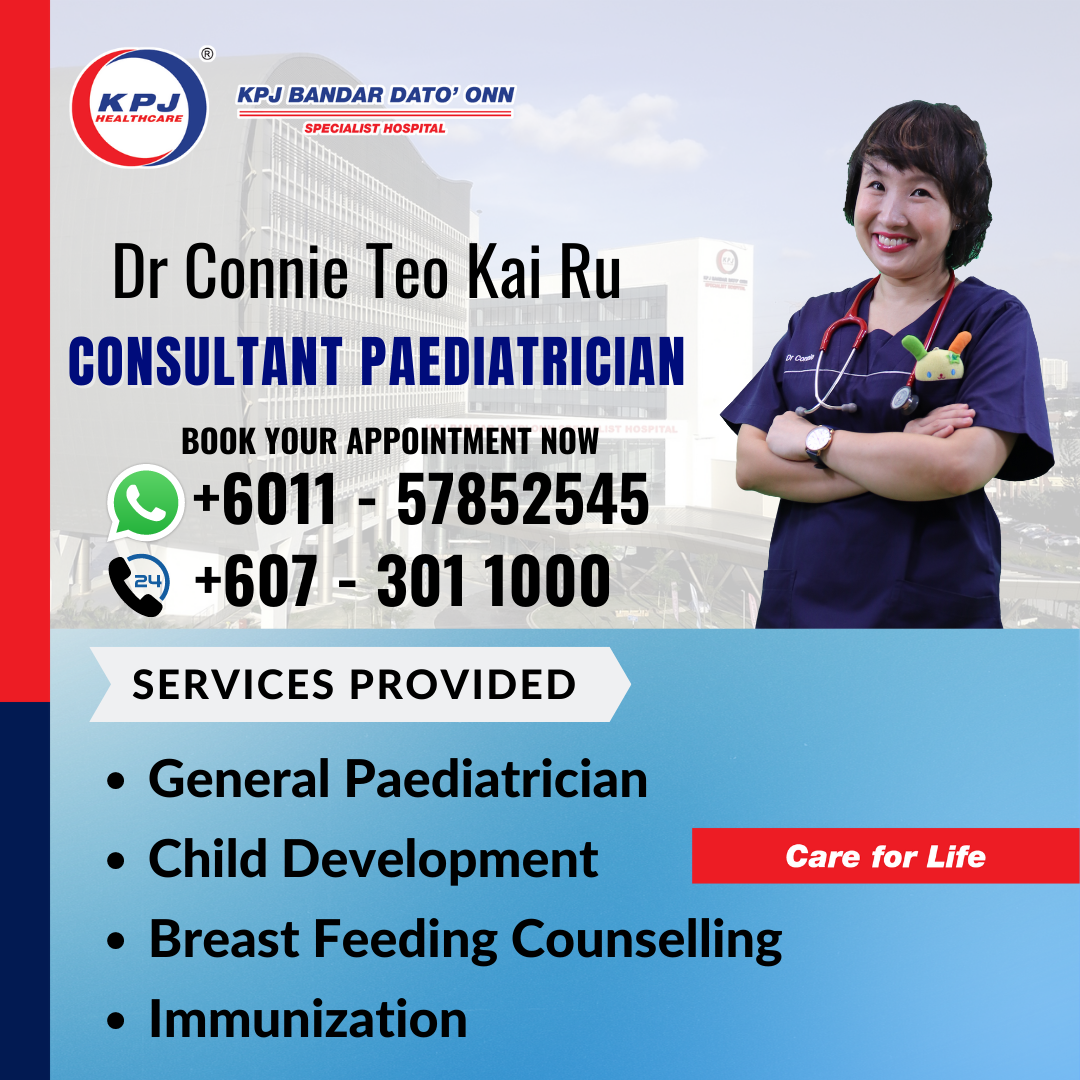 JOHOR BAHRU, 8 JULY : The Mysterious Acute Hepatitis with an unknown origin that was recently found in infants and children across the world has now become a global outbreak which has to come up with something particular to know about.

The abnormal disease, which is also now confirmed in one confirmed case in this country, involves a four-year-old boy who was diagnosed with Acute Hepatitis and has to undergo a liver transplant at a hospital in Sabah in March.

KPJ Bandar Dato' Onn Specialist Hospital Paediatrician, Dr. Connie Teo Kai Ru said, the source of the infected cases now is not being supervised by many countries yet, but it is good if we can take a major precaution before it becomes more sophisticated.

"The clinical syndrome among identified cases is acute hepatitis (liver inflammation) with markedly elevated liver enzymes. Many cases reported gastrointestinal symptoms including abdominal pain, diarrhea, and vomiting preceding presentation with severe acute hepatitis and increased levels of liver enzymes and jaundice (yellowing of the whites of the eyes).

"Other symptoms of this acute hepatitis with unknown origin include dark urine, pale, grey-coloured faeces, itchy skin, and muscle or joint pain. Most cases also did not have a fever. Hence, the common viruses that cause acute viral hepatitis (hepatitis viruses A, B, C, D, and E) have not been detected in any of these cases, " she said.

Regarding the disease, Dr. Connie said, the mysterious hepatitis disease is also something that society must be ready to embrace because it is widespread, patients who suffer from it often don't know they have the virus, and it is more harmful to children.

"Hepatitis can usually cause inflammation of the liver. Although most cases of hepatitis do not show signs and symptoms, one should see a doctor if they have poor appetite, nausea, or start to get stomach area pain and vomiting.

"Complications of hepatitis result in liver cirrhosis, which is severe liver damage that causes cell death, or the most harmful is liver cancer," she said.

Based on the track record of the infectionus around the world today, Dr. Connie also presumes the country must be known and ready to accept more incoming confirmed cases based on the potential that this spreading disease is high.

That data was recorded until May this year. That is, over 348 probable cases of acute hepatitis in children have been reported in 21 countries, with 26 children requiring liver transplantation.

According to the World Health Organization (WHO), international travel or links to other countries have not been identified as factors for disclosure based on currently available information.

Meanwhile, Dr Connie said, although there is no clinical evidence linking the cases, the results of studies conducted in several countries, such as the United Kingdom (UK), suggest that it is possible that the disease is transmitted by the mutated Adenovirus type 41F.

Based on the WHO research, this Adenovirus germ was found to start to spread after the COVID-19 pandemic, which may be the cause of the epidemic.

"Adenovirus has been found in 75 percent of the cases tested in the UK, with the majority of cases for Type 41 adenovirus." Adenovirus associated virus 2 (AAV-2) has also been detected in a small number of cases in the United Kingdom using meta-genomics in liver and blood samples.

"However, many of the remaining cases did not have appropriate samples taken, highlighting the importance of appropriate sampling (whole blood) to further characterize the type of adenovirus detected. Additionally, Type 41 adenovirus infection has not previously been linked to such a clinical presentation in otherwise healthy children.

"While adenovirus is a plausible hypothesis as part of the pathogenesis mechanism, further investigations are ongoing for the causative agent; adenovirus infection (which generally causes mild self-limiting gastrointestinal or respiratory infections in young children) does not fully explain the more severe clinical picture observed in these cases," she said.

She also says it is important to note that the current apparent association identified with adenovirus could be an incidental finding due to enhanced laboratory testing in association with increased levels of community transmission of adenovirus.

"Adenovirus usually does not cause hepatitis in children, but in such affected children, there may be a cofactor, such as a toxin or previous viral infection. The virus also comes in many genetic varieties and can occur at any age in children.

"It usually causes fever, respiratory illnesses like cough, colds, and sore throats. She said. Ive also read some research that is being performed in Japan which this Adenovirus is also found in respiratory droplets or secretions, or direct contact with an infected person, stool or contaminated surface," she said.

Hence, she also clarifies that the new mutated Adenovirus Type 41F can last on environmental surfaces for a long time, which makes its mortality much stronger than other viruses.

So she added that the standard good hygiene recommendations, which include good and careful hand hygiene and cleaning and disinfestation of surfaces in settings frequented by young children, should always be followed.

"There are various ways to make sure your children or infants keep harm from these infections, and it all starts with making sure they get the vaccination. Keep up with the antibody and immune levels, which can be seen on the medical checkup.

"There is no scientific method to get hindrance from this disease, but it can all start with practising a good hygiene lifestyle, such as encouraging your child to wash their hands often, avoiding people who are sick, covering coughs and sneezes, and avoiding touching their eyes, nose, or mouth," she said.

Last but not least, she said the cause of the global cases of acute hepatitis still remains unknown at this stage, so it is also early to be certain if routine vaccinations under the national immunisation programme are bearable enough to handle this virus.

Hence, Dr. Connie said, vaccination is still a necessity because it has been implemented for so long, especially in preventing hepatitis A and B among children.

"We do not deny that this virus also carries significant effects, but this should not be seen as an end in itself as there are various methods of treatment that can be done.

"Parents also do not need to panic, but they must be ready to bring their children for treatment or examination if they show any symptoms. It is because the presentation of hepatitis may not be obvious in the early phase, so it is always advisable to return to the doctors if they are not better 48 to 72 hours after consultation.

For the record, Dr. Connie is a Paediatrician with vast experience of almost 14 years in the medical industry, hence serving a few general hospitals in Johor before moving out as one of the specialists at KPJ Bandar Dato' Onn hospital.

At KPJ Bandar Dato' Onn, Dr. Connie was an expert in performing a variety of procedures which her honed the skills from the past Paediatric Intensive Care Unit. She is known by be one of the best at General Paediatrics, Paediatric Nephrology, Paediatric Oncology, Paediatric Neurology, Child Development, and Immunization.

END
Back News & Events