You are at the centre of great care as our medical professionals work around you to ensure you receive the best care for your individualised needs. At KPJ Klang Specialist Hospital, we were among the first to use
SINGLE USE
dialyzer for all our patients, ensuring safety and best quality outcome. Reused dialyzer is commonly associated with increased health hazard from germicide exposure when not treated effectively.
Dialysis only plays one role in a patient's overall health. Hence, it is important for patients to maintain a routine healthy diet and exercise to boost general wellness. At our centre, our dietitian conducts bedside counselling with you, advising your meal plan that suits your condition.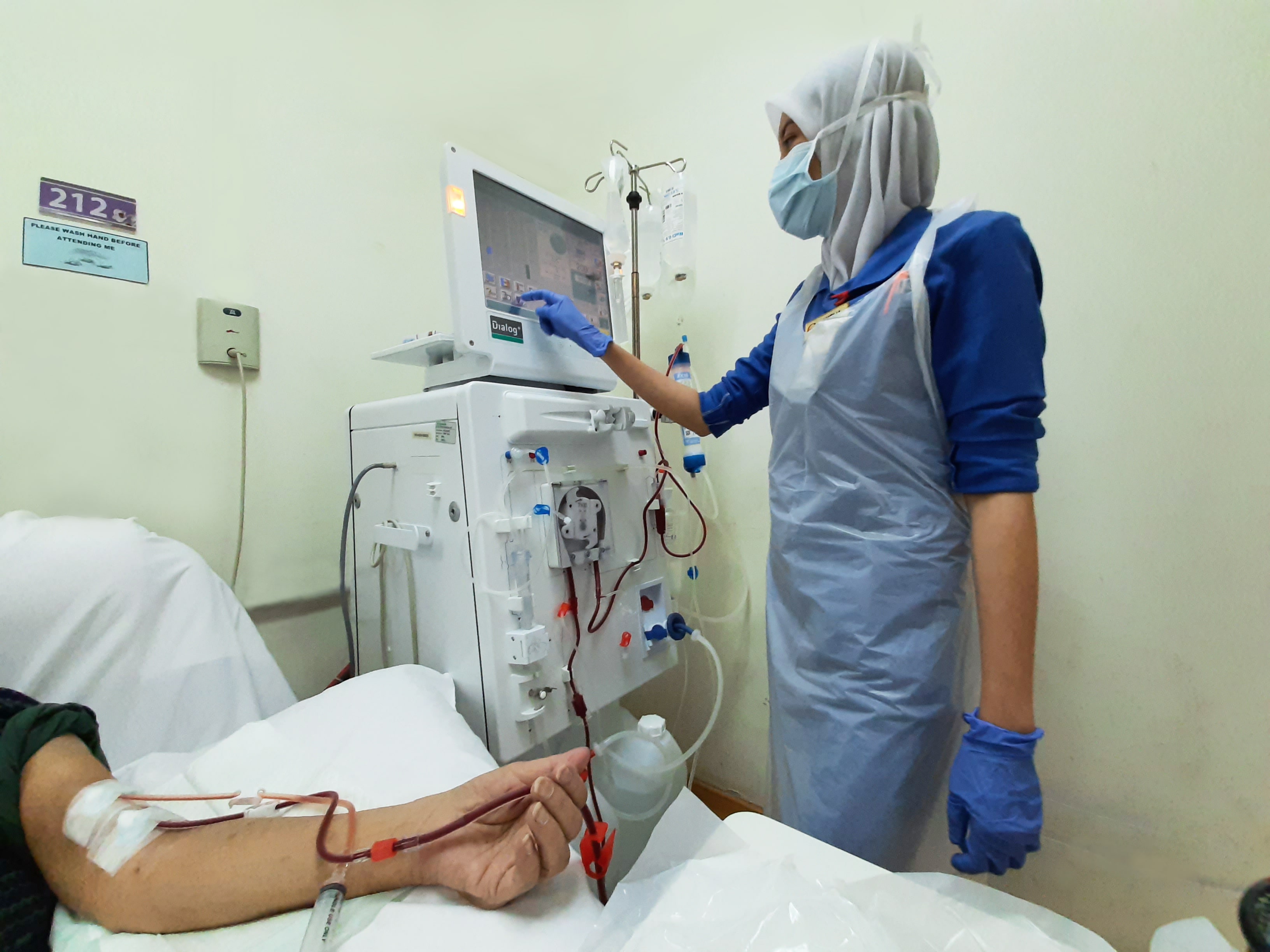 ● The blood from patient's body is pumped by the dialysis machine into a dialyzer (filter – artificial kidney).
● Once in the dialyzer, the toxins in the blood is filtered, cleaned and excreted through the help of dialysis machine.
● The clean blood is then returned back into the patient.
● This dialysis process may require 4 hours in one session and the treatment is performed 3 times / week.


● Hourly monitoring
● Monthly and 3 monthly blood test
● Procedure performed as per Doctor's Consultation.
● Patients nurtured with Health education.
● Light refreshment given upon request.
● Clean environment for comfort treatment.
● Complementary blanket is provided to all patients.
● Personalize tablet use during the treatment is provided upon request.


● Follow the facility's infection control standard and policies.
● Provide accurate information about medical and social history.
● Understand about kidney disease.
● Comply with haemodialysis care plan.
● Notify Doctor and Nurses of any changes in health condition and status.
● Bring all medication that has been taken to be reviewed by facility services.
● Follow the schedule treatment as given.
● Dialysis treatment or treatment withdrawal decision has to be approved by Nephrologist.
● Treatment reschedule has to be informed 1 week in advance.
● Screening test is required for patient returning from holiday.
● Blood test will be taken monthly and 3 monthly.
● Respect the rights of other patients to access clean, safe, calm treatment environment.
● Ensure visitor's activities will not interfere with the facility's operations.
● Acknowledge own's responsibility for any illness or injury in failure to follow the recommendations of doctor or facility services.
● Acknowledge that non conformity to necessary compliance on treatment times and schedule, medications, diet and fluid restriction and other physician's orders may be result in declined health, hospitalisation or possibly death.





| | |
| --- | --- |
| HAEMODIALYSIS CATEGORY | RATES |
| Regular Client | RM250.00 |
| Visiting / Walk In | RM280.00 |
| Foreigner | RM400.00 |
| Emergency / ICU | RM500.00 |
Monday, Wednesday, Friday
6.30am – 12.00am

Tuesday, Thursday, Saturday
6.30am – 9.00pm

Sunday & Public Holiday
Close