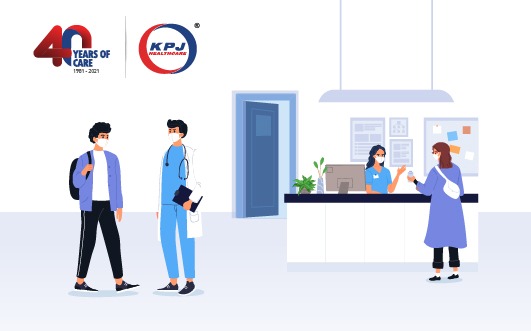 KPJ Healthcare acknowledges the 14-day Movement Control Order (MCO), from 1 June to 14 June 2021, as announced by the Government.

As an essential service, KPJ hospitals will remain open throughout this MCO, providing the care and treatment needed by our patients nationwide.

Please be assured that KPJ fully complies with Standard Operating Procedures (SOP) stipulated by the MOH. The hospitals' consultants and staff remain vigilant in the fight against Covid-19. Our main priority is, as always, your safety and health.

To minimise risk, we encourage patients to please contact the nearest KPJ Hospital in your area to arrange for appointments with our specialists, especially if you need to come to the hospital. Alternatively, we also provide telemedicine services for existing patients via online consultations and medication home delivery services. Just log on to our website at www.kpjhealth.com.my, and click on the sliders for access.

We are with you every step of the way. Stay safe.

--------------------------------------------------------------------------------------------------------------------------------------------------------------------------------------------------------------------------

KPJ Healthcare mengambil maklum bahawa Perintah Kawalan Pergerakan (PKP) selama 14 hari, akan berkuatkuasa di seluruh negara dari 1 Jun hingga 14 Jun 2021, seperti yang telah diumumkan oleh Kerajaan Malaysia.

Sebagai penyedia perkhidmatan perlu, hospital-hospital KPJ akan terus dibuka bagi memastikan perkhidmatan penjagaaan kesihatan yang diperlukan oleh pesakit kami di seluruh negara, tidak terkesan di sepanjang tempoh PKP ini.

KPJ akan memastikan perkhidmatan kami mematuhi Prosedur Operasi Standard (SOP) yang ditetapkan oleh Kementerian Kesihatan Malaysia (KKM). Para doktor pakar dan wargakerja KPJ tidak alpa dalam memerangi Covid-19.

Keutamaan kami adalah keselamatan dan kesihatan anda.

Untuk meminimakan risiko, pesakit sedia ada digalakkan menghubungi Hospital KPJ terdekat untuk mengatur temujanji dengan doktor pakar kami, terutamanya jika anda perlu menerima rawatan di hospital kami.

Sebagai alternatif, kami juga menyediakan perkhidmatan dalam talian untuk pesakit sedia dan perkhidmatan penghantaran ubat-ubatan ke rumah. Pesakit boleh log masuk ke laman web kami www.kpjhealth.com.my untuk akses.

Kami sentiasa ada bersama anda.
Back News & Events