UR COMMITMENT TO CARING FOR COMMUNITIES
We have always believed that good CR practices should bring us closer to the communities we operate in and make healthcare affordable for everyone. As such, our community CR initiatives focus primarily on the provision of healthcare services, as this is what is closest to our hearts.

Our "Care for Life" philosophy is underscored by our focus on community care and the wellbeing of individuals. We are committed to elevating communities and continue to demonstrate the spirit of caring and serving via several initiatives. These include delivering basic health screening at a minimal cost or for free; organizing public health talks and campaigns that advocate healthy lifestyles and good hygiene; assistance in cash or kind to orphanages, homes for the aged and the underprivileged; as well as making zakat contributions and donations.

KWAN - KPJ's Flagship CR Initiative
Our Flagship CR initiative to help communities, particularly the impoverished and underprivileged in urban communities, is via our involvement in the chain of charity outpatient clinics and dialysis centres under the Klinik Waqaf An-Nur (KWAN) initiative. Under KWAN, patients are charged a minimal blanket fee of only RM5 each time for normal outpatient treatment or around RM90 for dialysis services. All treatment is rendered by qualified medical doctors and includes the cost of the medicines prescribed.

The KWAN initiative began with one small clinic in Johor Bahru in 1998 through a collaboration between KPJ and parent company, JCorp. Following the success of the initiative and the overwhelming response from the community, the KWAN network has grown and to date encompasses the Waqaf An-Nur Hospital and 19 clinics (including 5 site clinics and 6 dialysis centres throughout Malaysia). In addition, KPJ also operates two mobile clinics today. The first has been operating in the state of Johor since 2012 while the second in Selangor, has been in operation since 2013.

KPJ received the mobile clinic in Selangor from Lembaga Zakat Selangor (LZS) in June 2013. Housed in a refurbished van, the mobile clinic is making it easier for KWAN to serve the communities around Selangor in line with KPJ's aim to be close to its patients. The mobile clinic comes under the ambit of both KPJ Kajang Specialist Hospital and KPJ Selangor Specialist Hospital. A third mobile clinic, the result of collaboration between Waqaf Selangor Muamalat (WSM) and KPJ, will be in operation soon in Selangor. This mobile clinic will operate in areas not already under the purview of the existing mobile clinic in the Selangor.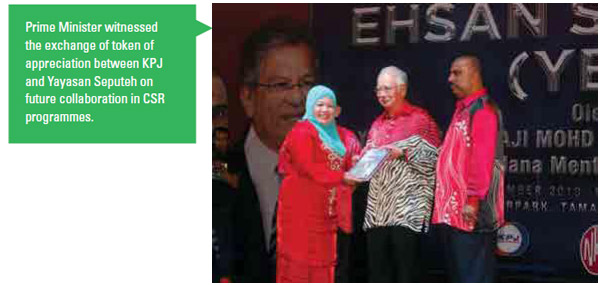 KPJ provides management and medical expertise to the run KWAN's 19 clinics spread out across several states and the Waqaf An-Nur Hospital located in Pasir Gudang, Johor. The clinics are located in strategic locations which are readily accessible to communities such as in the compounds of mosques or in shop-houses located near homes. This accessibility to high-value, low-priced clinics and dialysis centres helps ensure that members of the public have the medical care and attention they require despite the rising cost of healthcare today.

Meanwhile, the dialysis centres that operate alongside these clinics offer subsidized dialysis treatment, with many patients also benefiting from free treatments through the financial support of NGOs and the respective Islamic Religious Baitul Mal Funds mobilized for that purpose.

The following is the list of facilities within the KWAN network to date :

NO
CLINIC/ DIALYSIS CENTRE
LOCATION
DATE OPENED
1.
Klinik & Pusat Dialisis Waqaf An-Nur Galleria@Kotaraya
Johor Bahru, Johor
01.11.1998
2.

Klinik & Pusat Dialisis

An-Nur Pasir Gudang
Pasir Gudang, Johor
16.06.2006
3.
Klinik Waqaf An-Nur Batu Pahat
Batu Pahat, Johor
16.03.2001
4.

Klinik & Pusat Dialisis

Waqaf An-Nur Senawang
Seremban, Negeri Sembilan
06.10.2003
5.

Klinik & Pusat Dialisis

Waqaf An-Nur Sungai Buloh
Sungai Buloh, Selangor
23.06.2006
6.
Klinik Waqaf An-Nur Muar
Muar, Johor
01.08.2007
7.
Klinik Waqaf An-Nur Kluang
Kluang, Johor
01.08.2007
8.

Klinik & Pusat Dialisis

Waqaf An-Nur Ijok
Ijok, Selangor
01.11.2007
9.
Klinik Waqaf An-Nur Satok, Sarawak
Kuching, Sarawak
19.02.2008
10.
Klinik Waqaf An-Nur Samariang, Sarawak
Kuching, Sarawak
23.12.2009
11.
Klinik Waqaf An-Nur Bukit Indah, Ampang
Ampang, Selangor
24.12.2009
12.
Klinik Waqaf An-Nur Larkin Sentral
Johor Bahru, Johor
29.12.2009
13.
Klinik Waqaf An-Nur Manjoi, Perak
Ipoh, Perak
15.01.2010
14.
Klinik Waqaf An-Nur Pekan Kajang
Kajang, Selangor
31.12.2010
15.

Klinik & Pusat Dialisis

Waqaf An-Nur Rembau
Rembau, Negeri Sembilan
01.11.2011
16.

Klinik Waqaf An-Nur Masjid Al-Syakirin, Jalan Gombak Selangor

Gombak, Selangor
01.12.2011
17.

Klinik Waqaf An-Nur Subang Jaya




Subang Jaya, Selangor




10.10.2012