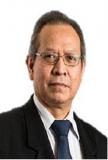 A good day to appreciate the front liners!
KPJ healthcare Berhad in collaboration with QSR Brands (M) Holdings Bhd treated the front liners of Sarawak GH with delicious Pizza for Iftar and dinner. The treat was delivered by Miss Nurhazimah Mahat, General Manager along with staff of KcSH.
We thanked all of your effort for keeping us safe and continue the battle to end the pandemic.
Back News & Events