Financial Services
Payment Counter Info
Kindly make your payment or acknowledge your bill. For outpatient without medication is located at the counter (Level 4) and for outpatient with medication is located at pharmacy cashier counter (Level 1). Upon settling the bill, a receipt will be given to you. Please show the receipt to the nurse at the Nurse Counter.

Health Insurance Accepted
In order for you to undergo a hassle free admission, kindly present your insurance card upon registration/admission. If you are unable to do so, kindly provide us with the details of your insurance plan or verification. A deposit will be collected upon admission. Additional payment shall be required when the expenses exceed initial deposits or limit specified in the company Guarantee Letter (GL) or else informed by insurance.

We encourage employees to seek clarification from your respective companies/bodies related regarding your insurance/Managed Care Organization (MCO)/Third Party Administrator (TPA) coverage.
Should you require further assistance, please contact our Business Office at +60 6-956 4500 ext 1009.

Following are our panel of insurances, MCO & TPA providers, companies and government agencies:-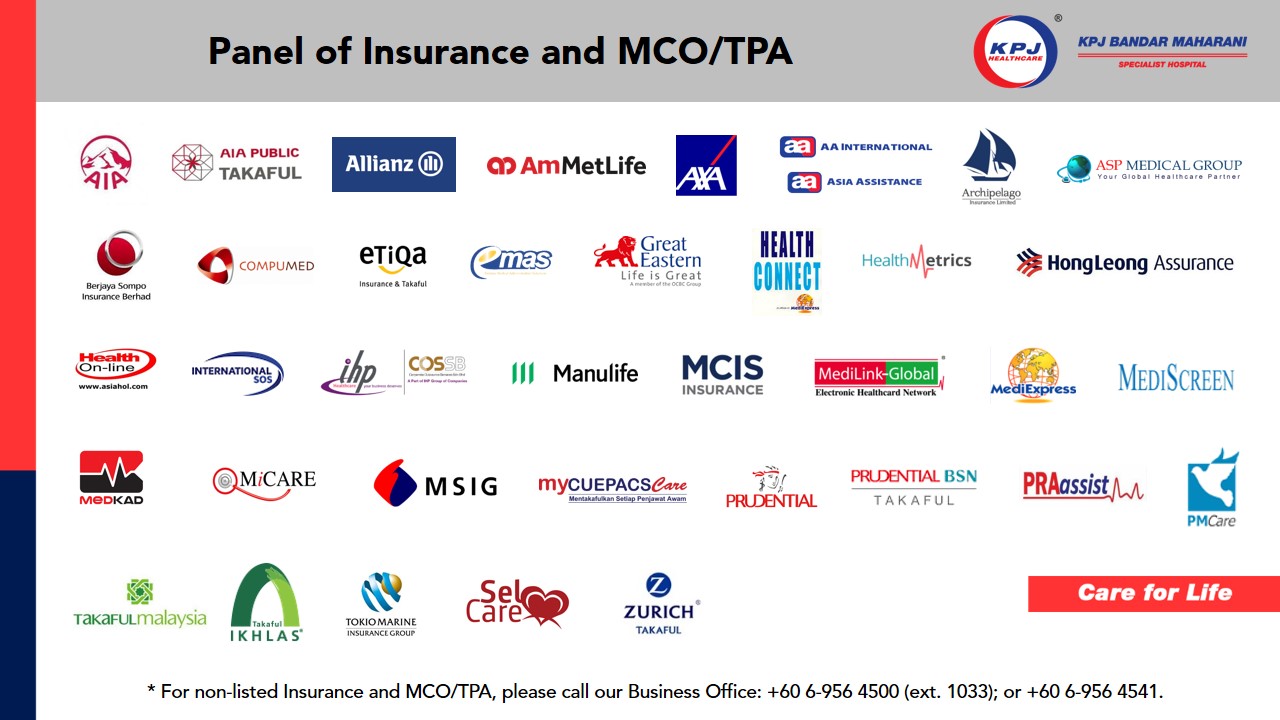 INSURANCE

AIA

AIA Bhd - (Individual)

AIA Bhd - (Employee Benefit)
AIA Public Takaful Bhd - (Individual)
AIA Public Takaful Bhd - (Employee Benefit)

Great Eastern
Great Eastern Life Assurance (M) Bhd
Great Eastern Takaful Bhd
Great Eastern General Insurance (M) Bhd
Etiqa

Etiqa Life Insurance Bhd - (Group & Individual)
Etiqa Staff C/O Etiqa Life Insurance Bhd
Etiqa Family Takaful Bhd - (Group & Individual)

Prudential

Prudential Assurance Malaysia Bhd
Prudential BSN Takaful Bhd

Allianz

Allianz General Insurance Company (M) Bhd
Allianz Life Insurance Malaysia Bhd


MANAGED CARE ORGANIZATION (MCO)/THIRD PARTY ADMINISTRATOR (TPA)

International SOS (M) Sdn Bhd

AA International Hub Sdn Bhd

Asia Assistance Network
Asia Assistance C/O Great Eastern
Asia Assistance C/O Hong Leong Bhd
Asia Assistance C/O Allianz
Asia Assistance C/O Ammetlife
Metronic iCares (MiCares)

MiCare Sdn Bhd C/O AIA
MiCare C/O Great Eastern
MiCare – (Ambank)
MiCare – (Axa Affin)
MiCare – (RHB)

Cuepacscare4u Solutions Sdn Bhd (CuepacsCare)

Medilink-Global (M) Sdn Bhd

Eximius Medical Administration Solution Sdn Bhd (EMAS)

MediExpress

MAA Takaful Insurance (MediExpress & MiCare)

PMcare Sdn Bhd

Mediscreen Sdn Bhd

Manulife Insurance Bhd C/O Integrated Health Plans (M) Sdn Bhd

COMPANY

Sime Darby Berhad

Sime Darby Rent-A-Car Sdn Bhd
Sime Darby Industrial Sdn Bhd
Sime Darby Auto Bavaria Sdn Bhd
Mecomb Malaysia Sdn Bhd
Ramsay Sime Darby Hospitals Sdn Bhd
Sime Darby Serenia Development Sdn Bhd
Sime Darby Auto Performance Sdn Bhd
Sime Darby Plantation Berhad
Sime Darby Research Sdn Bhd

Pioneer

 (Top Management)

ST Microelectronics

Perodua Sales Sdn Bhd

Vtech Communications (Malaysia) Sdn. Bhd.

Trurich Resources Sdn. Bhd.

Leong Hup (Malaysia) Sdn Bhd

Lembaga Pelabuhan Johor

Outspan Malaysia Sdnbhd

Moca Resources Sdn. Bhd.


GOVERNMENT AGENCIES

Perbadanan Tabung Pendidikan Tinggi Nasional (PTPTN)

PERKESO – Health Screening Program (HSP)

PERKESO – Employee Benefits

FELDA
FIC Integrated Property Management Sdn Bhd
Felda Security Services Sdn Bhd
Felda Technoplant Sdn Bhd
Lembaga Minyak Sawit Malaysia

Pertubuhan Peladang Kebangsaan (NAFAS)

SME Corporation Sdn Bhd

Suruhanjaya Komunikasi Dan Multimedia Malaysia (SKMM)

TH Plantations Berhad

Permodalan Nasional Berhad (PNB)
Amanah Saham Nasional Berhad (ASNB)
Amanah Mutual Berhad (AMB)
Pelaburan Hartanah Nasional Berhad
PNB Equity Resources Corporation Sdn Bhd
PNB Merdeka Ventures Sdn Bhd
PNB Investment Institute