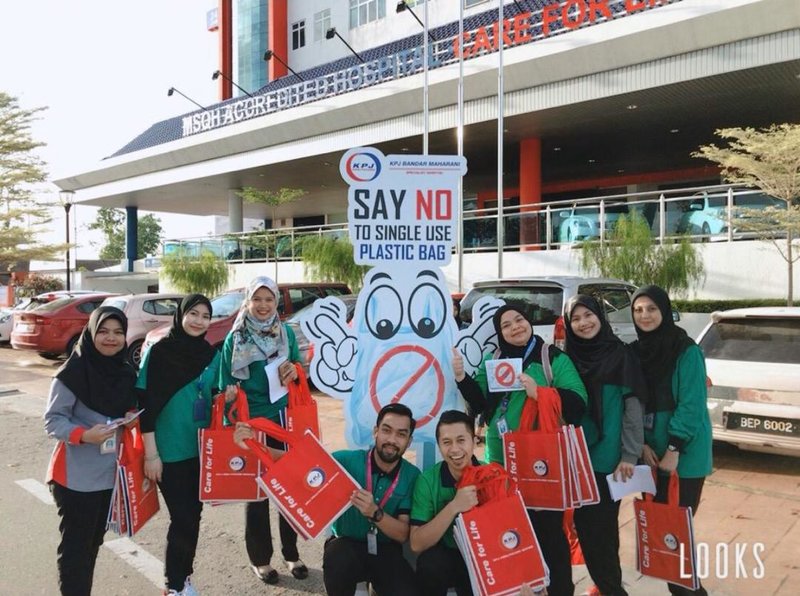 MUAR: December 22, 2019 | Sunday - KPJ Bandar Maharani Specialist Hospital (KPJ BMSH) has taken the initiative to raise awareness to the public to love environment by reducing the use of disposable plastics. This initiative is a follow-up to KPJ Healthcare Berhad (KPJ HB) 'Zero Single-Use Campaign' launch earlier in January.
KPJ BMSH campaign was held at the parking lot (in front of the hospital building) during business hour of Pasar Tani Jalan Stadium. About 100 visitors joined the campaign and giving positive feedbacks. 100 goodie bags distributed to the visitors and free basic health screening offered to them at the same times.
For record, KPJ BMSH is starting to distribute medicine in paper bags at the pharmacy, reduce usage of single-use plastic materials in dietary services and replace bottled mineral water with water dispensers and paper cups.
"This message has been shared at all KPJ hospitals by the President and Managing Director of KPJ HB. And we at KPJ BMSH will continuously explore different ways to reduce single-use plastic within our hospital operations, along with the conversion of plastic-based products into recyclable paper-based ones." Head of PR & Marketing Services of KPJ BMSH Ahmad Faez Ahmad Sazali concluded.
Back News & Events