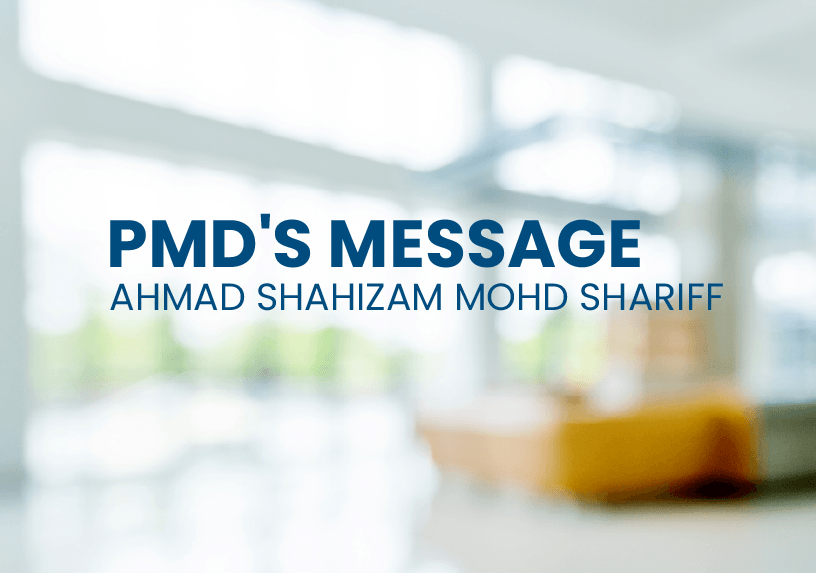 Dear Stakeholders,
As we move into the new year of 2022, we are saddened to see the impact from the recent floods which have been the most severe in Malaysia for a number of years. With numerous states affected, including a number of our own staff, we are working to provide assistance where we can to our personnel and local communities that have been impacted by this event.
Many had expected 2021 to be a turnaround year for the pandemic situation which had hampered the year prior, but what eventually came was another year marked by significant disruption. 2021 witnessed the imposition of the Movement Control Order ("MCO") multiple times which had a significant impact on the Malaysian economy as well as the performance of our hospitals.
Whilst the external environment had dictated to a large extent our overall performance in 2021, KPJ has been able to progress on a number of initiatives, especially in regards to our "Re-energising KPJ" transformation programme. Being the largest hospital group in Malaysia in existence for more than 40 years, the transformation plan which we launched in August 2020 aims to rejuvenate the brand and develop a culture of excellence that will emphasise the delivery of a 5-star patient experience, propelling KPJ to be the number one Healthcare brand in Malaysia and one of the most respected throughout the region.
With our response to the pandemic being an immediate concern in 2020, we had separated our transformation plan into two phases. Phase 1 of the transformation, or "transforming the base," has now been completed as of the end of 2021, which has seen us complete major foundational and organisation changes across the company. This has included, amongst others, a major restructuring of our hospitals, introducing a new organisational structure, revamping of our management team hiring for key positions and completion of numerous projects related to business and operational excellence. Phase 1 also addresses disruptions in the healthcare trends accelerated by pandemic and the mitigation plans; digital transformation plan and lower cost healthcare setup. The second phase of our transformation, commencing in 2022 until the end of 2025, is our growth phase, where we expect to be able to evolve and achieve significant growth.
Another key achievement for KPJ in 2021 has been the development of our public private partnerships, including our work with government on the National Immunisation Programme. As part of this initiative, KPJ was one of largest participants to the scheme, contributing to the current 80% vaccination rate in the country and putting Malaysia amongst the top 20 countries in the world in terms of vaccination rate. We have also put significant effort into decanting non COVID-19 patients from government hospitals, which has had the synergistic effect of relieving pressure from the public healthcare system whilst also enabling us to improve our utilisation rate in a time of weak demand.
KPJ Healthcare Outlook 2022
Currently, while utilisation rates at KPJ and other private hospitals in Malaysia remain below historic levels, moving this trajectory towards our achievements in the pre-pandemic period will be one of our key focus areas for 2022. In addition to greater relaxation of restrictions and better economic conditions, we are also anticipating a pick-up in healthcare demand at our facilities from pent up demand which has been accumulating over time. Due to the numerous MCOs, we have seen the deferment of elective healthcare treatments over the past 2 years with patients choosing to stay at home. With the pandemic situation more under control, we are beginning to see the return of demand for non-urgent but necessary procedures in our system.
We also aim to continue to expand our public-private partnership with government that has picked up considerably since the middle of 2021, where there had been an urgent need for decanting of non-COVID-19 patients. With a large backlog of patients still remaining within the public system currently, this collaboration is expected to continue further into 2022. We believe that collaboration between the public and private sector in Malaysia will be essential to getting back to some form of normalcy for the healthcare sector.
Building KPJs Digitalisation Ecosystem
The emerging trend of digitalisation in healthcare will be one of the most significant drivers for our industry over the next few years. At KPJ, we have placed building our own digital ecosystem as one of the key pillars of our transformation programme as we aim to increase efficiencies across our operations and benefit from the changing dynamics of the healthcare market. While we have previously begun work on certain digital initiatives such as telemedicine, our new digital transformation plan has been formulated in a way that will put the patient experience right at the heart of our business and generate significant business opportunities for the company over the medium and long term.
A key milestone in our digital roadmap will be the opening of our brand-new hospital KPJ Damansara Specialist Hospital 2 ("DSH2"), which is on target to launch by the middle of 2022. This new hospital, which will house state of the art healthcare technologies and systems, will act as our proof of concept for an enhanced digitalised operating environment. Following the example set at DSH2, we will look to implement these technologies across our entire hospital network. With DSH2, we will have a greater sense of the new capabilities afforded by new smart hospital technologies in comparison to our current traditional systems, enabling us to work on enhancing our services and deliver more cost-effective healthcare to our patients.
Diversification & Ancillary Business
We have seen that the cost of healthcare provision has become increasingly important for consumers as healthcare costs have gradually continued to rise as a result inflationary pressure from input costs. With cost effectiveness becoming more of a concern for patients, it is KPJs goal to find methods of meeting demand for healthcare for both new and existing patients in accordance with their needs and requirements. To this end, KPJ ACC Kinrara is our first purpose-built ACC aimed at providing convenient local access to healthcare services based on an outpatient setup. This new model provides patients with a wide range of rapid, high quality healthcare services without the need to be admitted overnight, greatly reducing the cost of healthcare treatments available in Malaysia. This new ACC concept opens up a new market segment to KPJ and will act as a complement to our existing network of hospitals.
Strategically located in the township of Bandar Kinrara, Puchong, the new centre that was just opened in December will focus on providing comprehensive and continuous primary care by a team of dedicated family medicine specialists ("FMS"), ophthalmologists, Ear, Nose & Throat ("ENT") physicians, dental surgeons, gastroenterologists and supported by certified medical officers. In addition, ACC Kinara will also host visiting specialists who will come in to assist and run certain specialist clinics. Moving forward, we hope to take our experience and lessons learned from ACC Kinara and replicate the model in other suitable locations across Malaysia where there is demand.
Moving Forward
With the first phase of our transformation plan completed in 2021, we have put in place major foundational and organisation changes across KPJ. This has put us in a good position moving into the 2022 as the global pandemic is expected to enter an endemic phase, bringing about an improvement in economic conditions and a healthier operating environment with less restrictions on movement. While there remain risks such as Omicron or other variants that may appear over time, we are positive that high vaccination rates, booster programmes and greater experience in managing the pandemic will lead to reduced risk disruption over the coming year.
With the second growth phase of our transformation agenda, we are aiming to capitalise on a return to a more positive business environment, building on the foundations that we have built. Codenamed "#STAR25", our 3-year plan key focus area of 2022 being business recovery and building back towards the trajectory and performance we had recorded before the pandemic hit. We look forward to updating you further on our plans and initiatives as we move forward.
Sincerely,
Ahmad Shahizam
Back News & Events