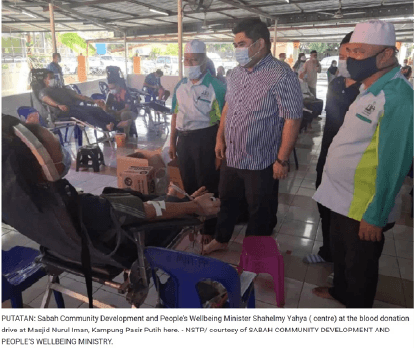 PUTATAN: Sabah is ready to help targeted groups register for the state's Covid-19 Immunisation Programme.

State Community Development and People's Wellbeing minister, Shahelmey Yahya, said the groups include senior citizens, disabled people and orphans.

"Through our ministry, we can help in terms of databases so that they can join the programme.

"We will contact the state Health Department and see how we could help to register them," he said.

Shahelmy was speaking to reporters after a blood donation programme at Masjid Nurul Iman, Kampung Pasir Putih at Putatan, here.

The Women, Family and Community Ministry announced that senior citizens and disabled people would be given priority for the second phase of the inoculation programme, as both categories are deemed to be high risk.

Shahelmy also urged eligible citizens to inoculate voluntarily for the benefit of all.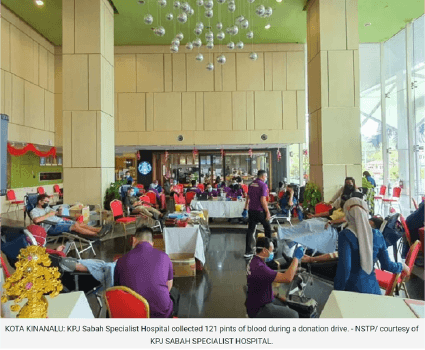 "The voluntary immunisation programme is not just to protect ourselves, but to protect the community."

Earlier, Shahelmy, who is the Tanjung Keramat assemblyman, said donation drives play important roles in raising awareness of the need for public contribution to blood banks.

KPJ Sabah Specialist Hospital, in collaboration with Queen Elizabeth Hospital II, had also collected 121 pints of blood between Feb 26 and 27, from 110 donors.

The 'Save a Life' Blood Donation Campaign is an annual Corporate Social Responsibility (CSR) programme initiated by KPJ Sabah Specialist Hospital in line with its tagline 'Care for Life'.

Among the regular donors were People's Volunteer Corps (Rela) members, staff and doctors of KPJ Sabah Specialist Hospital, as well as new donors from the public.

"In responding to (worries over our) state's blood banks running low since the implementation of the Movement Control Order (MCO), KPJ Sabah acted swiftly to organise this blood donation campaign to ensure continuous supply of blood, for when the need arises, especially in times of emergency," said hospital chief executive officer Miranda Harumal.

https://www.nst.com.my/news/nation/2021/02/669751/sabah-help-senior-citizens-disabled-orphans-register-vaccination







Back News & Events