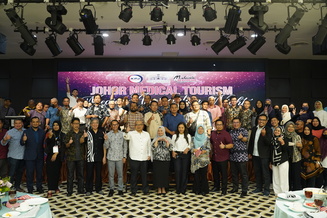 JOHOR BARU: 16 September 2022 | Friday – KPJ Healthcare Berhad ("KPJ Healthcare" or the "Company") through its network of hospitals in the Southern Region continues its efforts towards strengthening and enhancing visibility of the health tourism sector in the state via its strategic collaboration with Tourism Johor.
KPJ Healthcare's operations, which began in Johor over 41 years ago, has been seeing a steady increase in health travel patients and demands for quality healthcare for the past 16 years.
To date, KPJ Healthcare's operations in Johor consist of seven specialist hospitals with over 800 beds and over 200 medical specialists, making it the trusted and preferred provider of private healthcare services in the Southern Region.
In 2022 alone, KPJ Healthcare's network of hospitals in the Southern Region have provided treatment to over 14,000 international patients and recorded over RM15 million in healthcare tourism revenue as at July 2022. Patients from Riau Islands, Bengkalis and Dumai in Indonesia as well as Singapore accounted for the vast majority of patients in this category.
With the increase in the number of flights and ferry services, KPJ Healthcare will continue to focus on the development of health tourism, offering premium healthcare services at affordable prices. Amongst the treatments and consultations that were highly sought after were cancer, cardiology, neurology, orthopaedic, and fertility services. Other specialties included paediatric, general surgery and health screenings.
"We laud and welcome the State's efforts to boost Johor's health tourism sector as it evolves to become a major contributor to Johor's economy, and having the advantage of being strategically located to major cities in the region. This in turn allows us to offer seamless, end-to-end and comprehensive healthcare experiences and we expect to see a continued upward trend for the next few months due to the re-opening of borders and easing of quarantine requirements since last year, which have tremendously helped our rebuilding efforts in the health tourism segment," said Ariesza Noor, Chief Corporate Officer of KPJ Healthcare.
KPJ hospitals in Johor have also introduced the latest medical technology to better serve its patients such as the 3 Tesla MRI (magnetic resonance imaging) scanner, Versa HD radiotherapy for cancer treatment, Zeiss Kinevo 900 for brain surgery, and the CONSTELLATION® Vision System, an ophthalmic microsurgical system for vitreoretinal surgery. These facilities are comparable to the technology available in neighbouring countries, especially Singapore.
Out of the seven KPJ Specialist Hospitals in the state, three of them, namely KPJ Bandar Maharani Specialist, KPJ Pasir Gudang Specialist, and KPJ Johor Specialist Hospital are accredited by the Malaysia Society of Quality in Health ("MSQH"), while KPJ Johor Specialist Hospital is also accredited by the Joint Commission International ("JCI") from the United States of America.
KPJ Johor Specialist Hospital was also recently conferred the prestigious Diagnostic Imaging Centre of the Year in Asia Pacific GlobalHealth Award 2022, and the Marketing Initiative of the Year - Malaysia award for its 'The IVF Happy Journey' campaign during the Healthcare Asia Award 2022.
Back News & Events