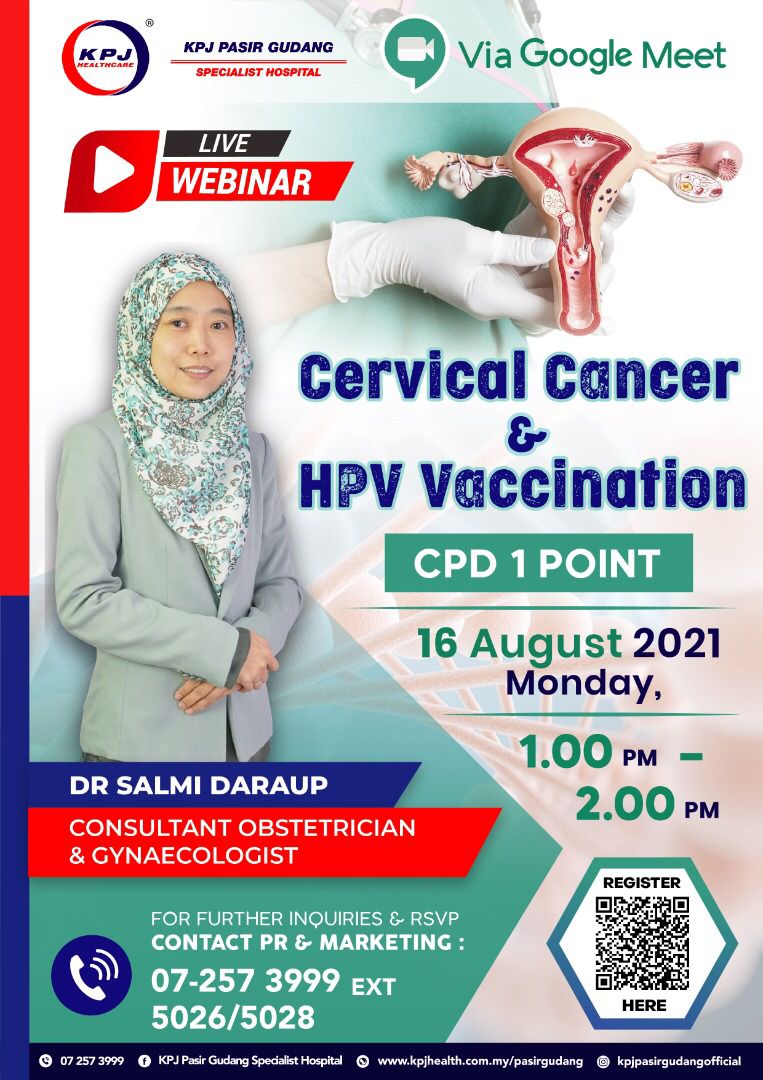 On behalf of Obstetrics & Gynaecology Services KPJ Pasir Gudang Specialist Hospital, it is our great pleasure and privilege to invite all Consultants and General Practitioner in Malaysia to attend our Virtual Live Webinar session (FREE ADMISSION).
Details of the session as per below:-
Topic : Cervical Cancer & HPV Vaccination
Host : Dr Salmi Daraup, Consultant Obstetrician & Gynaecologist
Date : 15th August 2021, (Monday)
Time : 1.00pm - 2.00pm
Platform : Google Meet
*Special Note Book will be grant to the 50 early birds participants*
MMA has approved 1 CPD point to consultants and healthcare professionals as per the invitation.
Please find the attached e-flyers for further details.
We would appreciate it if you could join us in this event.
Should you need further information or clarification, please do not hesitate to contact Puan Rosmina, Marketing Service, KPJ Pasir Gudang Specialist Hospital at +6017-7753588.
Take care & stay safe.
#KPJPGSH #kpjpasirgudang #careforlife #gynecologist #drsalmi #cervicalcancer #HPVAwareness #KPJPGSHwebinar
Back News & Events