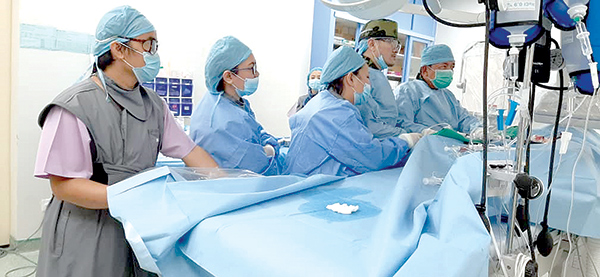 KOTA KINABALU: Three heart patients at the KPJ Sabah Specialist Hospital benefited from the expertise of renowned Thai interventional cardiologist Dr Wasan Udayachalerm operating together with Sabah consultant cardiologist Dr Rowland Chin Wee Ming and medical team last Monday.
Dr Wasan is Bangkok's Chulalongkorn University Associate Professor and Cardiologist in its Cardiology Unit in the Department of Medicine and Department of Physiology, Faculty of Medicine, and a Fellow of the Asia-Pacific Society of Interventional Cardiology.
Biotronik Medical Devices (M) Sdn Bhd brought in Dr Wasan to Sabah on a proctorship programme to conduct a one-day Complex Percutaneous Coronary Intervention Workshop at KPJ's Invasive Catheterisation Laboratory as the company's support of physician training and education on Percutaneous Coronary Intervention techniques on coronary products and therapies.

Besides expertise in the field of interventional cardiology, Dr Wasan is also an expert in the field of coronary artherosclerosis in diabetes and myocardial infarction or heart attack issues.
Proctoring is an objective evaluation of a physician's clinical competence by a proctor like Dr Wasan. In most instances, a proctor acts only as a monitor to evaluate the technical and cognitive skills of another physician.
A proctor does not directly provide patient care, has no physician-patient relationship with the patient being treated, and does not receive a fee from the patient.
It's not possible for Sabah heart patients to consult Dr Wasan Udayachalerm as he was in Kota Kinabalu for only one day and not likely to return soon.
The terms proctorship and preceptorship are sometimes used interchangeably as a preceptorship is an educational programme in which a preceptor teaches another physician new skills, like what Dr Wasan imparts from his vast experiences.
"It's sharing my experiences that benefit doctors here, showing them the techniques using the devices," he said at a brief interview before doing another operation on a waiting patient.
Percutaneous coronary intervention is a non-surgical procedure used to treat narrowing (stenosis) of the coronary arteries of the heart found in coronary artery disease. Coronary angioplasty was first introduced in 1977.

Percutaneous coronary intervention is used primarily to open a blocked coronary artery and restore arterial blood flow to heart tissue, without requiring open-heart surgery.
In patients with a restricted or blocked coronary artery, percutaneous coronary intervention may be the best option to re-establish blood flow as well as prevent angina (chest pain), myocardial infarctions (heart attacks) and death.
Today, percutaneous coronary intervention usually includes the insertion of stents, such as bare-metal stents, drug-eluting stents, and fully resorbable vascular scaffolds (or naturally dissolving stents).
While many blocked arteries benefit from angioplasty and stenting, some do not as in cases of Chronic Total Occlusions where some vessels have been completely blocked for a long time and are more difficult to open but with advances in techniques and devices, interventional cardiologists are prepared to fix the most complex coronary artery blockages.
Interventional cardiologists have traditionally performed angioplasty and stenting through a leg artery (the femoral artery).
Some doctors embraced a new approach using the radial artery in the wrist.
They now train others in this method and speak about it at national and international conferences. The radial approach allows patients to go home the same day rather than staying overnight for observation. Additional radial benefits include less bleeding and vascular complications, quicker recovery time and greater comfort.
Some catheters feature tiny, folded balloons on their tips. Once the aardiologist reaches a narrowed or blocked artery, the balloon is inflated, opening the artery. The balloon is then deflated and removed.
Besides balloon treatment, interventional cardiologists place a stent, a tiny mesh tube that they expand and leave behind to keep the artery open. Most stents now come with coatings that slowly release special drugs. The drugs decrease scar tissue buildup, reducing the need for further treatment. Dissolvable stents are a new option that does not leave metal in the body permanently.
Some catheters come equipped with a laser, allowing interventional cardiologists to vaporise arterial blockages. Though most people will not need laser angioplasty, it provides an additional treatment option.
Interventional cardiologists can use a special catheter-based tool to drill out challenging calcium deposits in the arteries. Rotational atherectomy is not commonly used since other angioplasty tools have improved, but it can be invaluable in some cases.
Back News & Events