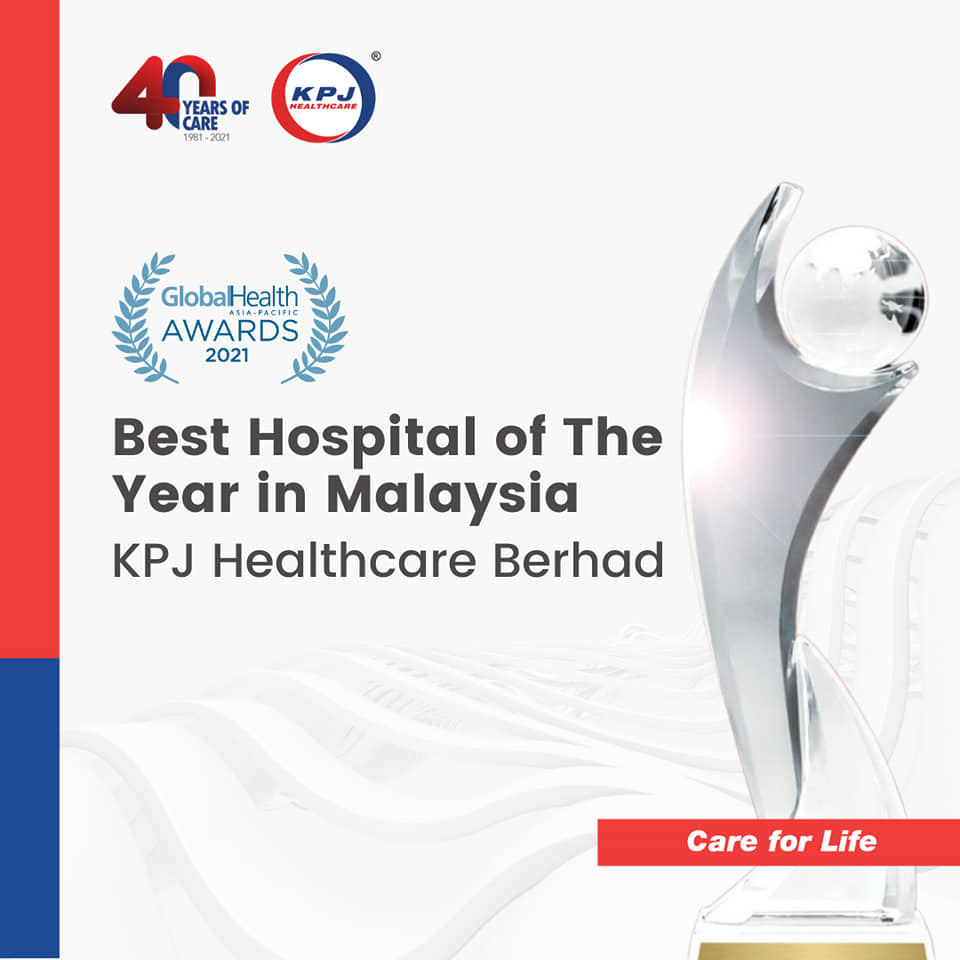 We have recently won the "Best Hospital of the Year in Malaysia" award from the GlobalHealth Asia-Pacific Healthcare and Hospital Awards 2021. A true testament of our resilience and our resolve in aiding the national recovery efforts. We are proud and privileged to serve the country in this time of need. Receiving the awards on behalf of KPJ is Ariesza Noor, the Chief Corporate Officer of KPJ Healthcare Berhad.
In addition, KPJ Tawakkal KL Specialist Hospital, a tertiary private specialist hospital with a niche in Orthopaedic Centre of Excellence (OCoE) has been named once again as the top Orthopaedic Service Provider of the Year in the Asia-Pacific for the fifth year running. This achievement is in line with the hospital's aim to offer world-class Orthopaedic Healthcare Services beyond the borders of Malaysia with its wide range of services, state of the art facilities and a team of outstanding Orthopaedic Consultants specialising in a full range of Orthopaedic specialties.
Adding to the accolade is the naming of KPJ KL Dental Specialist Centre as best Dental Service Provider of the Year in the Asia-Pacific for the second time since 2019. Committed to providing safe dental practice, patient safety and high quality services, the Centre serves both local and international patients daily with more than 581 total international patients received in 2020.
Last but not least, KPJ Damansara Specialist Hospital has been named as the Paediatric Service Provider of the Year in the Asia-Pacific region. True to its reputation KPJ DSH boasts seven well-known paediatricians with Professor Dato' Dr. Azizi, Datuk Dr. Iqbal and Dato' Dr. Musa among the notable figures. Datuk Dr. Iqbal is also a neonatology specialist, serving in KPJ DSH's Neonatal Intensive Care Unit (NICU).
Congratulations to all our hospitals!
Back News & Events