KPJ KL REHABILITATION CENTRE

KPJ KL Rehabilitation Centre provides comprehensive rehabilitation focusing on intensive and interactive Neurological/Stroke rehabilitation programs for chronic and acute neurological/stroke patients with all levels of disability. We provide a multi-disciplinary approach to rehabilitation combining Rehabilitation Physician, Physiotherapy, Occupational Therapy, Speech Therapy and Psychologist.

Our goal is to help patients gain independence and confidence to carry out their daily activities. With a team approach, the aim is to empower the disabled person, to assist them to achieve and maintain their optimal physical, psychological and social function.

Specialty:

1) Rehabilitation Medical Consultant, Neurological Rehabilitation, Pediatric Rehabilitation, Amputee Rehabilitation, Orthopedics Rehabilitation, Speech Impairments, Spine injury rehabilitation,
2) Swallowing Disorders, Work Assessment & Work Hardening, Occupational Therapy
3) Psychologist (Adult and Children)

Rehab Independent Living Unit (RILU) – another programme under KPJ KL Rehabilitation Centre



Rehab Independent Living Unit (RILU) programme provides an opportunity for patient's family member / carer to simulate their home environment and routine prior discharge from hospital or nursing home.

Features:
1) Trains patients with disability or the elderly to be independent.
2) Offers personal and domestic activities in a home-like environment
3) Wheelchair accessible facilities.
4) Multi-disciplinary team of rehabilitation specialist, occupational therapists and physiotherapist.
5) Assessment of patients' abilities to perform daily activities to facilitate proper functional rehabilitation

The programme would be under the care of a rehabilitation specialist


This programme is suitable for:
• Disability from stroke, brain injury, spinal injury or other neurological diseases
• Musculoskeletal problems. Eg; low back pain or arthritis
• Patients recovering from surgery.
• Elderly who are facing difficulties performing day to day activities due to illness or recent long-term hospitalisation.

Stay In Option to Improve Quality Life in Elderly through Independent Living Unit (ILU) Our stay in package includes;
- Nursing care
- Room with attached bathroom
- Weekly consultant visits
- 4 meals per day
- Recreational activities including rooftop garden, karaoke room, mini gymnasium and mini library.

KPJ Senior Living Care (Nursing Home) is a residential aged care facility offering facilities for assisted living, rehabilitation and postoperative / convalescent care.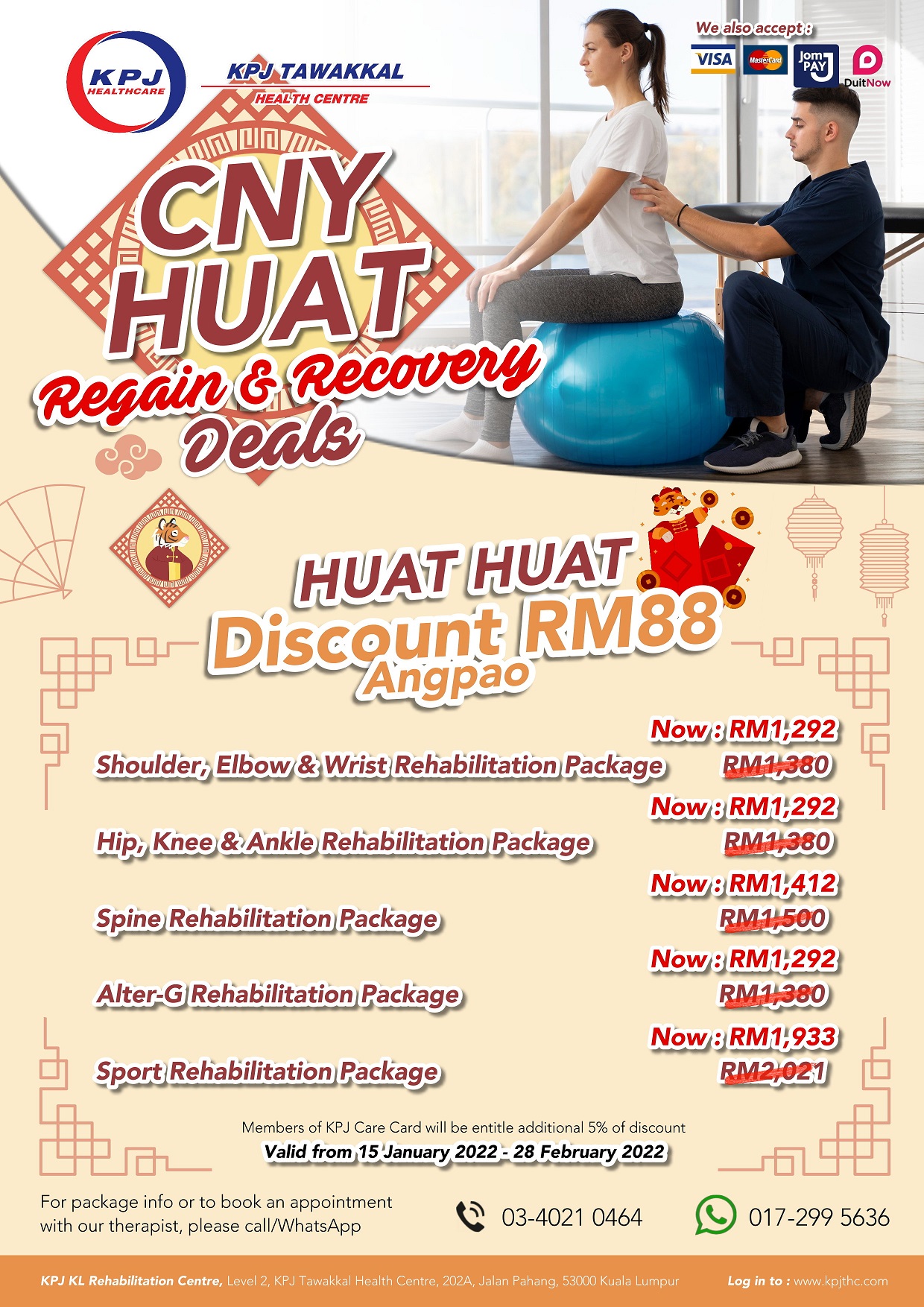 Click Here to Inquiry